Web-based Inclusive Classroom Profile (ICP™) Overview Training
Welcome to the
Inclusive Classroom Profile (ICP™)
Overview Training website.
This training is series of online modules that provide an overview of the ICP.
The ICP is a classroom observation measure for assessing the quality of inclusive classroom practices that support the developmental needs of children with disabilities, 2 ½ -5 years of age, in early childhood settings.
How to Use These Modules
The modules are presented in a slide format with accompanying audio. The module you select will open in a new tab/window and begin playing. You can pause, play, rewind, or fast forward using the playbar controls located at the bottom of the screen.

If you have any questions about the ICP, please contact tracey.west@unc.edu.
Technical requirements
You will need Adobe Flash Player in order to view these modules.
We recommend that you use the following browsers: Internet Explorer 7.0 and above, Mozilla Firefox 4.0 and above, Google Chrome, or Safari 5.0 and above.
In order to view the slides correctly, it is also recommended that you view the modules with a minimum screen resolution of 1024 x 768 pixels. If you cannot view the entire presentation, including the playbar located at the bottom of the screen, right-click with your mouse and select 'Show All.'
Introduction to the Inclusive Classroom Profile (ICP)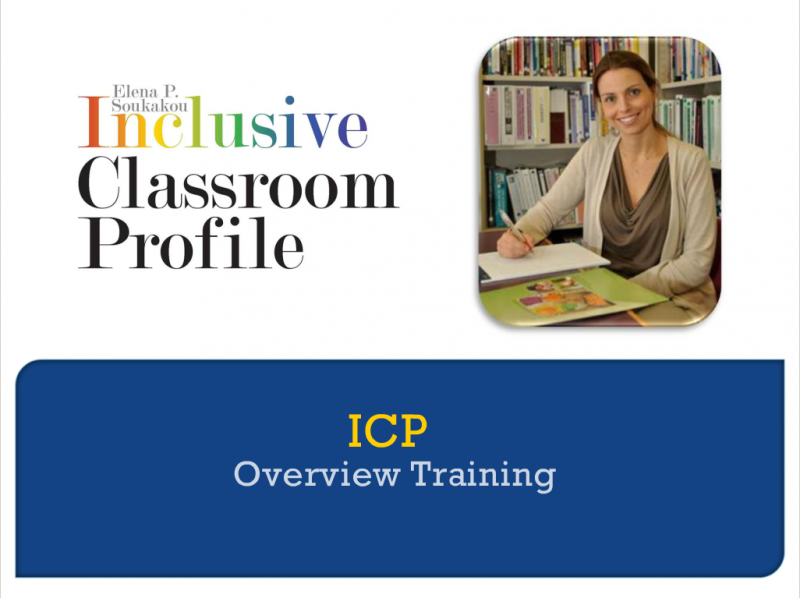 Running time (10:27 minutes)
What you will learn:
basic information about the purpose, structure, and administration of the ICP

the 12 practices that are assessed by the ICP